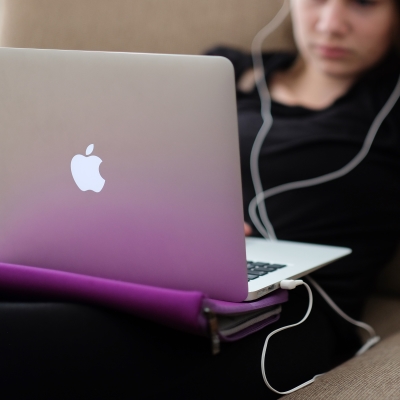 In this post I will describe what happens in a typical online hypnotherapy session, along with some of the questions that I am often asked about working online and if it is as effective as working face-to-face. 
Since the start of the Coronavirus pandemic, I switched to working online and my results have been just as good as I was when working face-to-face.  Clients have reported that they love the fact that they are in the comfort of their own home and it saves them so much time.
Does online hypnotherapy work?
Yes, is the answer.
I'll be honest I did question it as I had reservations about working online and did resist it for many years, but I'm so glad I made the move now.  In these difficult times it's proved to be such an asset and ensured my clients can still access the help they need and for many others who haven't been able to leave the house due to being clinically vulnerable, housebound and shielding.
Recent research also has been done to say it is just as effective as working face-to-face.    A systematic review in the Journal of Medical Internet Research (Vol. 14, No. 4) stated that results "indicate that e-therapy seems to be at least equivalent to face-to-face therapy".  I've included some further research links at the bottom of the post.
Is online hypnotherapy safe?
Absolutely!
Most people have seen how hypnosis is portrayed in film and television.  There is absolutely no chance of becoming stuck in hypnosis, or anyone overtaking your mind as this is not possible. Remember that is for drama.
No one can be hypnotised to do anything against their will or morals. You are the one who is always in control and would override and not accept anything that you didn't believe in.
A state of trance is used for therapeutic purposes; positive statements, reframing and other therapeutic change work. Narrowed focussed attention is something that you do many times a day naturally, going into a state of trance, examples of these natural states of trance include; being engrossed in a good film or book, just before dropping off to sleep, daydreaming and driving a car and can't remember how you got there.  
The sessions are run on a secure and reliable platform called Zoom.
What are the benefits of online hypnotherapy 
It's easy to access, so convenient and saves you time and this is a real bonus when life can be busy with work and family commitments.  
You don't have to travel and you can stay at home and feel even more relaxed, because you are in your own space.
After the session you can further enhance the effects of the relaxation from the session by not having to travel in your car or on public transport.
No parking or traffic congestion to worry about. 
If you are housebound, or clinically vulnerable such as immunosuppressed then you are protected as you aren't having to risk face-to-face.
No-one seeing you going into a therapy room if you want total privacy.
How does online hypnotherapy work?
I offer a free consultation which you can book via my online calendar
https://calendly.com/hypnoshift/15min 
A Zoom link is then automatically sent with instructions on how to join the video call. The video call can be done on your laptop, tablet or mobile.
The free consultation will give you chance to discuss your issue, give you chance to ask any questions and explore how hypnotherapy could help you and to see if I'm the right therapist for you  
Once this has been completed I will be able to give you a better idea of how many sessions would be advised for your particular issue.
If you choose to go ahead with sessions  then during the first session we discuss, expectations, goals and other relevant information.  The techniques used would be inductions (mental relaxation to bring about a state of trance), appropriate therapy (using various techniques to address the issues and bring about positive change), Transition to wakefulness to bring you out of your trance, and cognitive techniques.
An audio recording (MP3) will be made of your tailored session for you to use at home, which you will be able to play on your phone or device. This will help to reinforce the positive suggestions and visualisations which we have done during the session. There may also be relevant tasks for you to do between sessions to help you bring about change.
What do I need for an online hypnotherapy session?
Laptop, PC or tablet device with good sound and camera.
Headphones are useful and can help you to tune out and focus but many of my clients don't use them.
A quiet place where you can relax and won't be disturbed by family members, children or pets. 
Turning off other devices so you don't get disturbed.
Will online hypnotherapy work for me?
The most important thing is to be fully committed to the therapy, no willpower is required, just the conscious desire and determination for change, whilst keeping an open mind. 
Hypnotherapy isn't a magic pill and there are no guarantees, as any other hypnotherapist would agree, as we are all different, but I will ensure that we optimise the best possible chance of success by giving you the relevant tools to meet your goals and change strategy if needed.   
The key is working with the right therapist, which during the free consultation will give you a chance to decide if I am right for you and if I can help you with your particular issue.  
If you would like to go ahead you can book you free consultation you can go ahead here https://calendly.com/hypnoshift/15min 
Links to research
Effectiveness and Comparison with Face-to-Face Treatment https://www.tandfonline.com/doi/full/10.1080/00207144.2019.1553766
Internet-based versus face-to-face cognitive-behavioral intervention for depression: A randomized controlled non-inferiority trial - https://www.sciencedirect.com/science/article/abs/pii/S0165032713005120?via%253Dihub