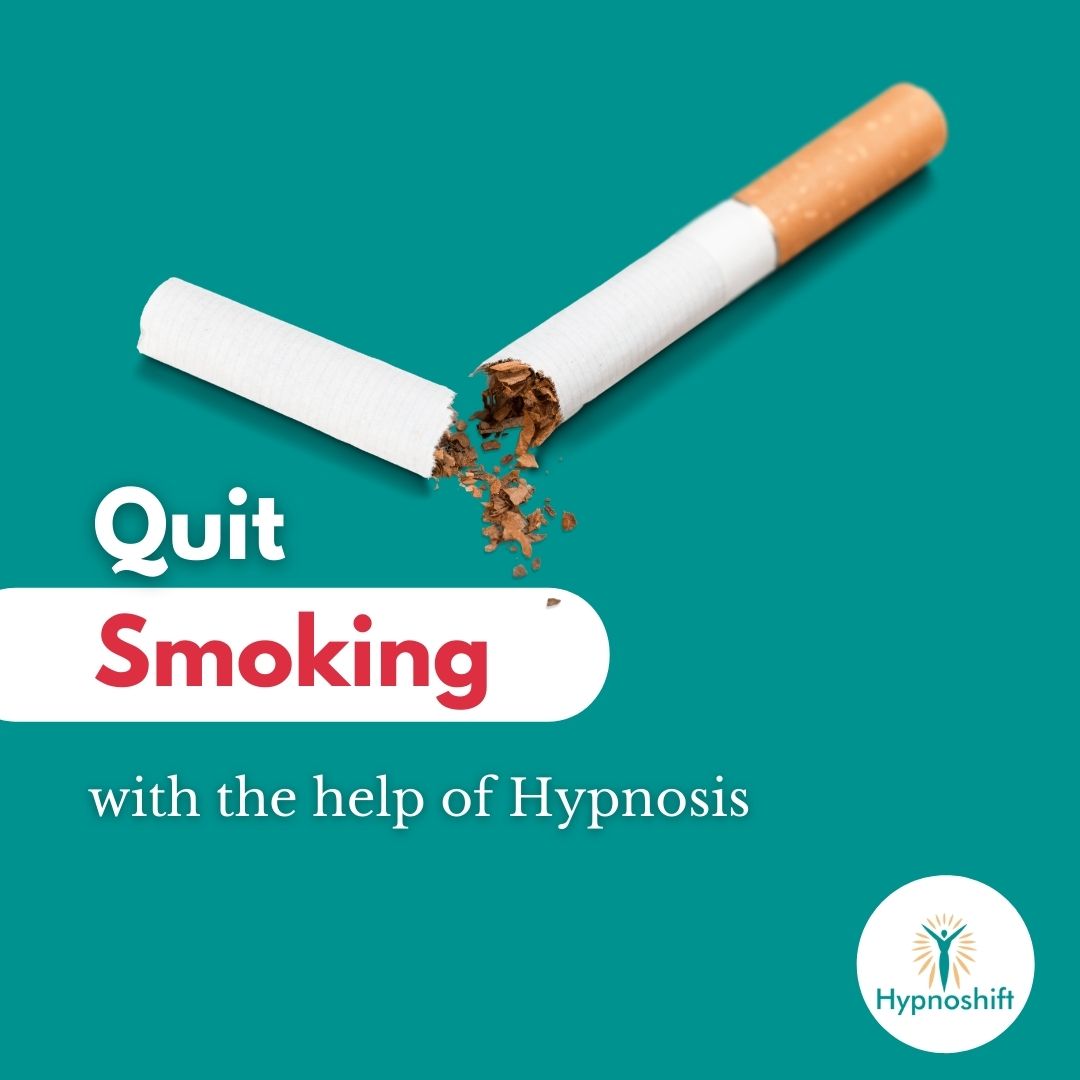 People wanting to give up smoking have often tried every method imaginable. Millions of people a year even try quitting without any assistance, but unfortunately, only 3% actually succeed.
With the cost of 20 cigarettes varying between £8.80 and £13.50 (as of Oct 21) and the steep price of living, your reason might be financial or health reasons for giving up smoking. 
I often get asked. How can hypnosis help in stopping smoking? I'll explore how hypnotherapy for smoking works and how you can use it to stop smoking today.
Hypnotherapy is a psychotherapeutic therapy used to treat mental and physical conditions.
Hypnosis has been around for centuries and has been used to treat various issues, both big and small. One of the most common applications of hypnosis is helping people to stop smoking. 
Clinical studies have shown that hypnosis is an effective way to quit smoking, and it's also a more comfortable experience than using traditional methods like nicotine patches or gum.
How does hypnotherapy for smoking work?
Hypnosis works by accessing the subconscious mind, which is where the urge to smoke is stored. I will help you to access this part of your mind and change the way you think about smoking. You will no longer feel the need to smoke cigarettes, and you will be able to overcome any cravings that you may experience.
Hypnosis is effective because, as it turns out, smoking isn't just an addiction to nicotine, but rather a complex behavioural issue that is eliminated when all aspects are taken into account. It helps us overcome addictions and compulsive behaviour.
When you are hypnotised, you are in complete relaxation and focused attention. In this state, your mind is open to suggestions.  This state allows the therapist to communicate directly with the subconscious mind. The hypnotherapist will suggest that you are no longer addicted to cigarettes and that you can easily stop smoking. The therapist will help you identify the thoughts and feelings associated with smoking and then help you change them.
There are several different ways that hypnosis can help people to stop smoking. It can help change the smoker's mindset to no longer see cigarettes as a source of pleasure or relaxation. It can also help address any underlying psychological issues that may contribute to the addiction.
The areas the stop smoking hypnotherapy sessions cover are as follows:
Quitting smoking and staying stopped
Navigating the high-risk situations
The bullying nature of smoking
What does success look like
The big smoking con
Benefits of being a non-smoker
Replacement of the stress management role that smoking played
Working out your particular habit loop and replacement of that with a healthier behaviour
The sessions are tailored, so some areas may not be relevant. We will be able to ascertain the areas of focus during your FREE consultation. 
Is hypnotherapy for smoking safe?
Hypnosis has been successfully used to help people stop smoking for many years. It is a safe and natural way to overcome the addiction to cigarettes.
Hypnosis is an effective way of helping people to stop smoking. It can be used either on its own or in combination with other methods, such as nicotine replacement therapy or medication.
What are the benefits of stop smoking hypnotherapy?
Most people know the physical benefits of giving up, as it's well documented. The benefits of hypnosis for helping you quit smoking are that it can address the psychological aspects of addiction.  It also helps build your self-esteem and confidence and gain healthier ways of managing stress and anxiety, which is essential when you want to change.
Do you actually want to stop smoking?
It's important that you actually want to stop smoking and not because someone else wants you to.   Motivation is key to change and the success of giving up smoking. Coping mechanisms are learned during the session. 
What to expect during a stop smoking hypnotherapy session?
During your FREE consultation we will discuss why you smoke, why you want to quit and talk about what triggers your cravings. If you've tried to quit in the past, you should share what worked and what didn't work. You'll need to be completely honest, so I will know how best to help you.
How long does stop smoking hypnotherapy take?
Stop smoking hypnotherapy is a one-off 2 hour long session and also includes a free initial consultation.  The initial consultation can be done online or over the telephone.   Then the 2 hour session can be booked at a mutually suitable time.
Where do the stop smoking hypnotherapy sessions take place?
Sessions are face to face at Precious Health Therapy Centre in the centre of Hale Village, Altrincham or online or telephone sessions. 
How much does it cost for hypnotherapy to stop smoking?
The 2-hour session costs £180 and includes a FREE consultation lasting 15-30 minutes and an MP3 support recording. 
How do I book the stop smoking hypnotherapy?
So when you are ready to stop smoking, book your initial no-obligation FREE consultation at and start your journey to change your unwanted habit. 
Online Hypnotherapy and Manchester Hypnotherapy to Stop Smoking with Hypnoshift.
Samantha Chater is a registered Clinical hypnotherapist with the General Hypnotherapy Register and CNHC.
Hypnotherapy sessions are convenient for those who live in Manchester, Altrincham, Sale, Hale, Bowdon, Timperley, Cheadle, Didsbury, Knutsford and Lymm.